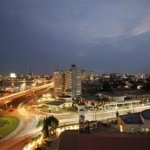 Hi,
I am a pharmacist practicing in Nigeria. I am very knowledgeable, not just about Western drugs, but also Chinese Herbs. Over the years I have used many different Chinese herbal formulas, so this is not new to me. I was attracted to Radiant Wonder because they are professionals and I can get responsible answers to my questions. What I have found has been quite extraordinary.
I have only been taking the herbs for a short time (3-4 months?) and I can not believe the dramatic results I have had in that little bit of time. I never expected this because my past experience with Chinese herbal formulas had not produced these changes. I used to be so exhausted, very tired, especially in the late afternoon. My energy surprises me now. I am amazed that I can enjoy working all day. I never expected this. I realize now, as my issue is fertility, that the reproductive system can not have energy if I do not have energy. This makes sense to me. I also had extreme hot flashes. They are almost non existent right now. I am counting a hot flash now if it seems like I might get one and it never materializes.
These are good, honest, highly professional people. When I first got to the website and read how other women had their conditions reversed, I was skeptical but decided to give their products a try. I am now a believer in the quality and effectiveness of their products. I am seeing very positive changes in my body, like increased sexual fluids and no more vaginal dryness.
Deola W
Lagos, Nigeria