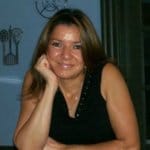 Dear Radiant Wonder,
I just wanted to send a Big Thanks for the good things that are happening to my body.
I went to get a hair cut and the girl who cuts my hair said, Karen your hair is thicker!
I told her it was the herbs from Radiant Wonder, and how my skin feels so smooth.
I don't know where to begin to say thanks. I'm feeling great all around I don't feel that anxiety that would take over my body. The sweats are not like before. The Calm Energy and Super Fertility #2 are doing wonders for me! I am staring to run better like I did 3 years ago. My stamina is getting better. I am getting back to who I am! I hope my period comes back and I feel that it will. I had some signs of it. I got CRAMPS — bring them on (LOL). I haven't had any cramps for months, so I know my body is changing for the good. I will keep you up to date. Thanks so much.
Karen M.
Rhode Island, USA