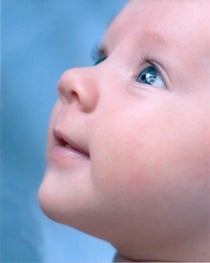 HAPPY NEW YEAR to you and your family Amanda! Life here is GREAT, very busy and couldn't be happier. Right now we are digging out of the massive snow storm/blizzard we received closing pretty much everything for several days including the University (a rarity!).
Ryan will be 10 months on the 13th of February. I can't believe he's almost a year old. We are so grateful to have him and that he's a healthy little boy. He's moving right along with his development – he has 6 teeth, enjoys eating solids and he's crawling. He pulls up to a standing position on everything and is really moving fast 'walking' along the furniture, walls, etc. and expect him to be walking unassisted very soon.
While initially tepid about your herbal program, I think the positive evidence speaks volumes. We saw undeniable evidence with the results of our first pregnancy. After that pregnancy and without using the program, the body again reverted to high FSH levels (multiple test close to 60) and we resumed the program. The body AGAIN responded in the same way (back to normal FSH levels) with the same program showing repeatable results leading us to our beautiful son. With what we witnessed, consider us sold by evidence.
Words cannot express how grateful we are to you, your system and counsel. I am a true believer. We have been discussing whether or not we would like to see if another little one is in our future. If we do make that decision to try again, we'll be calling!
I've attached a picture of Ryan for you. Again Happy New Year and thank you for everything you do.
From the beginning: What was going on when they first called? And how long did it take to get pregnant?
Well, when Steve first called for information, Sarah's FSH level was 65, she was having hot flashes, without a cycle, and had been told she was menopausal and a baby of their own was out of the question. Naturally they were both distraught and feeling they were vulnerable as far as what they could believe or not when it came to herbal programs.
Steve earned my respect as one of the most intelligent and skeptical customers I have ever dealt with. He had reservations about the testimonials. Were they real? He wanted proof that the herbs would work. He insisted that he must talk with customers who had successfully lowered their FSH levels. (see note below)* I actually did that for him. I will never do it again, because it is so complicated to try to accomplish in a way that protects our customers' privacy. People do not come to us to promote our products and services. They come to help themselves and with privacy. When couple chose to share their stories this is a great gift for us and for those researching our site. I did it for them this one time. I will never do it again. All knew they could help themselves if they just could try it and that would be the best proof of all. They began their own programs.
For Sarah it was a program to bring down her FSH, bring back her cycle and optimize her chances for conceiving; for Steve it was to give an extra boost to his sperm count, morphology and motility. Not that there was a problem there. I think he was just covering all bases, as Steve knows how to do!
They started taking the herbs in February of 2008 As the herbs and program started to work, I received a series of happy emails. Here is one of them:
Sent: Mon, 5 May 2008 — from Sarah — hot flashes gone and cycle has come
Hi, been meaning to email you. I do have great news: 1) have been hot flash free for a month, if not longer AND best of all —
2) I just had my period! This is the 2nd month in a row. I'm also making sure I have some type of steamed greens daily (the actual food) and not just the mega green shake in the AM. Trying to keep up with the exercises but not very good at that. I do, do the breathing and the ear rubbing though. 🙂 Still on the harmony and Fertility #2 pills 3/each 2 times a day—AM and then around 3-4PM. We are both doing the hot water detox once a week. And Steve is staying up on his herb cycle as well.
August 23, 2008 — pregnant
From Sarah: Hi Amanda, wanted to share some good news with you: I'M PREGNANT!!! and I've stopped taking the harmony and super fertility #2 as soon as I thought there might be a chance. I took home pregnancy tests (several) and then just had a blood test done today at my doctors, who confirmed it. So, do you have any suggestions?
From Steve: Sarah and I are mega excited with a touch of caution since we're in the first couple of weeks and we know that things could still go array. That said, we're very positive and optimistic. We've already beat the impossible odds stated by the doctors.
A little later:
From Steve: Obviously, we're excited! It's been a long road and we don't have a baby yet (due in late April), but going from doctors telling us it was impossible to have a baby on our own to 6 months later being told we're pregnant has been quite the journey. You were the one person who truly offered us realistic hope. While initially hesitant and unsure how effective this herbal program might be paired with the concern of being overly hopeful and that obscuring logic/evidence, the bottom line is we saw results in one month with the disappearance of hot flashes and the resumption of a menstruation cycle. With this evidence, it told us something was happening to the body. We know how devastating the initial news was, and rightfully so, but we've come full circle and we're so overjoyed and grateful that conception has happened.
We would certainly encourage anyone else going through this difficulty to give the process a chance to see if it works for them as it definitely did for us. When you look at the cost of in-vitro, it makes sense on a few levels to give this method a try, not to mention the satisfaction being able to have your own child and beating the odds. While we're not out of the woods yet, we look forward to being added to the group who can give you baby pictures. Amanda, thank you so much for your genuine care/concern. We truly appreciated your upfront, honest thoughts and desire to help. It made a difference in our lives. From the bottom of our hearts, thank you. Sarah and Steve Jensen
Not the end of the story………….unfortunately
This part of the story is personal and an event the Jensens are most likely still grieving about, so I will not go into great detail, just to say she was carrying twins and she lost them to a miscarriage at close to six months. Usually twins are in separate sacks in the uterus. This was a highly unusual and very risky situation where they were together in the same sack. There is a very low percentage of these pregnancies which can be carried full term.
But, true to form, both Sarah and Steve did not withhold their love for these little beings, but supported them until it was their time to leave. This is where the wisdom of this couple comes to the fore again. They did not hide in grief, but began again to come back again into the ring to fight forward. They called me and Steve made a special stew for Sarah. He didn't like it much, but she loved it and it really helped her body to come back. Her FSH jumped up again, but we knew not to worry. Things started to stabilize again. It wasn't perfect, but it didn't need to be. Our goal was to help Stephanie regain her strength again. We knew her body could get pregnant. We wanted to do our best to make sure she would hold the next child full term.
Sarah J.
Missouri, USA