12 Week Healthy Sperm Plan
Welcome to your Radiant Wonder 12 Week Healthy Sperm Program
5 Things to Remember Throughout your Program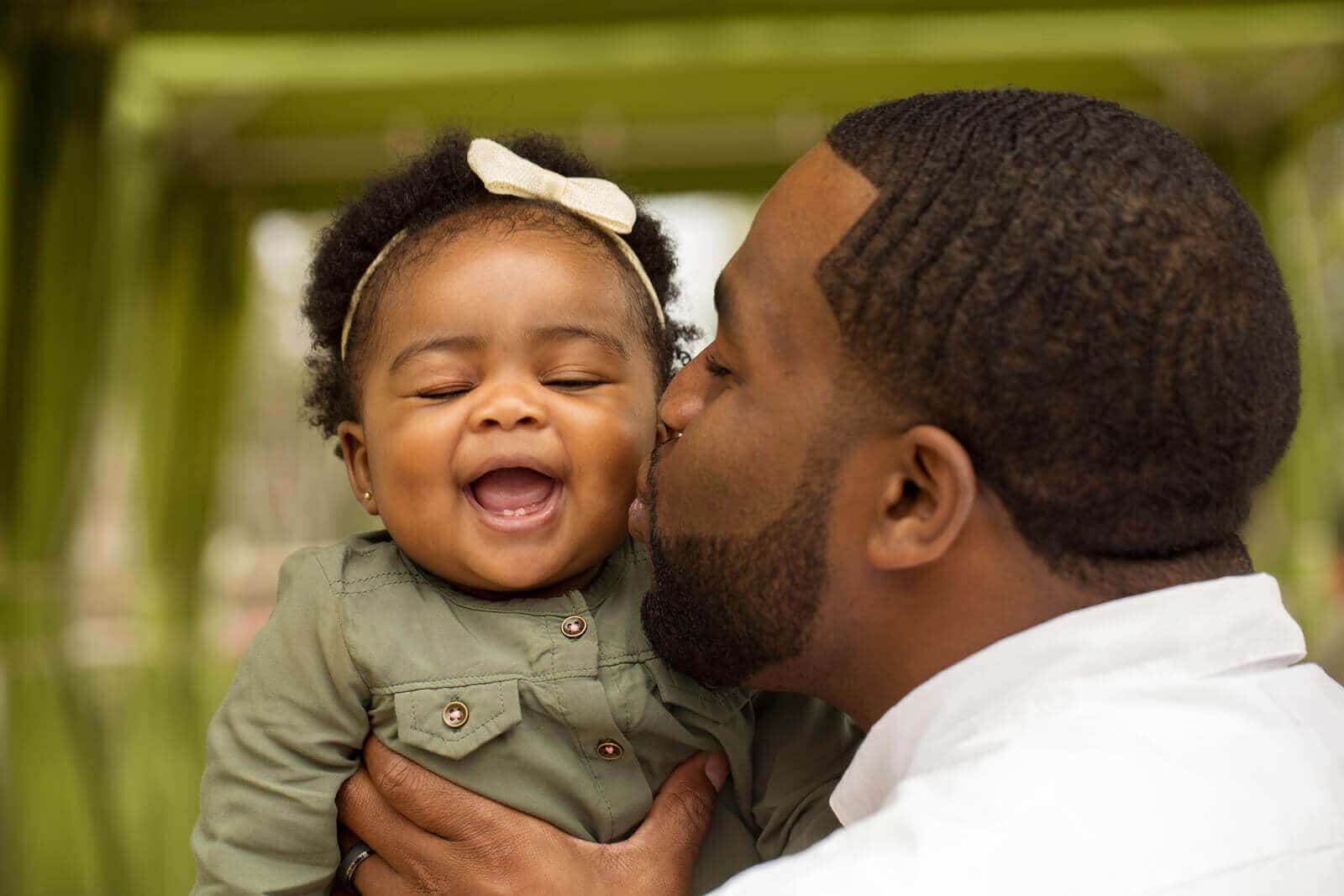 1. This Is a Great Opportunity – Make the Most of It
It's rare that a man is given exactly what he needs to do, laid out in such a clear way with such a simple, logical program.
So don't skip anything – try to do it all for the best possible results.
2. Never Forget the Truth:
Every 72 – 90 Days Your Sperm Supply is Completely Replaced
by Brand New Sperm
So every single day is a new opportunity to build strong, healthy sperm. 
3. You Can Change These Numbers
Unlike some women's issues which can take a long time, your numbers can change quickly, Your sperm are growing so fast – every minute of every day. This is a major plus point in your favor. It's because the growth rate is so rapid that your sperm may respond quickly to the right help.
4. Aim High
Aim high for the best start that you can give your child. The numbers that you are given are minimal requirements from the World Health Organization. You truly can aim much higher and give the genetic health of your baby a big boost.
5. You Don't Have To Do the Testing To Get Incredible Results
However, we encourage the testing just so that you can see what is happening and make decisions about what to do next. 95% of men never need more than the first Stage of Testing.
Read Success Stories from Two of the Many Men We Have Helped
Most men see dramatic changes in three or four months, like Adam, who tells his story below. Annie and John's success story shows how things can happen even more quickly…their life changing event came after just 5 weeks.
Adam's Success Story
"When I got my test results back and saw motility was at 3% it was tough.
My wife had been working with Radiant Wonder for about 4 months and I could tell she was changing.
So I bought the herbal formulas and started my own program. If I could help I wanted to.  So what did I notice?
I definitely had more energy. I felt better and had a better attitude.
But was that changing my sperm?
I couldn't keep spending money for 4 months to find out. So I retested in 2 months.
Motility moved from 3% to 25%. My 4 month test was at a normal level, over 40%.
Making this dramatic change has dedicated me to keep with my healthy lifestyle and diet changes. I am going to keep taking Male Fertility Formula, Stress Relief and Deer Antler until we achieve pregnancy. "
Annie and John's Success Story Healthier Sperm: Pregnancy in Just 5 Weeks!
We tried for 3 years with no success! A friend told us about Radiant Wonder just over a month ago.
We talked with an herbalist. She always spoke to us in a gentle and kind manor and we didn't feel like we were just a number. I always felt a sadness in me which she talked to me about.
My husband was always incredibly supportive even though he was struggling with male infertility.
For my husband, the herbalist sent Male Fertility Formula, Deer Antler and Balance.
For myself, the herbalist sent Super Fertility #5, Balance and Digest Ease #1.
Within a week of taking these herbs, we could see physical changes with my husband.
3 weeks later we found out that I was 5 weeks PREGNANT! This was the first month we started taking the herbs! We are extremely grateful to Radiant Wonder and to all those who left Success Stories before us. Thank you for what you do!
Our Radiant Wonder strategy is to teach you how to give your sperm exactly the food and the environment they need to develop successfully.
Just Two More Things Before You Start…
1. This Is a Program You Can Do With or Without Testing
You are smart because you have chosen not to do it alone.This program has been designed by an herbalist who has very in-depth knowledge about fertility health.
I hope that you can see, that Radiant Wonder is not just another site where you are given a list of supplements which have (at some time or another) been found to be of some value for creating healthy sperm.
We don't believe in advising you to take a ton of vitamins – because you honestly don't need them.
We feel the same way about herbal formulas.
What you do need – and what you have now – is an organized, precise plan tailored to your own specific needs to get you the best results in the shortest time.
By following this StartUp Program you can easily start producing healthy sperm that are strong and that test above all of the basic levels.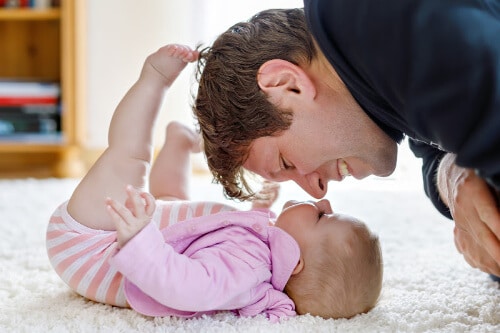 2. Make a Commitment to Eat and Live For the Health of the Sperm Within You
We can give you the knowledge and tools to build healthier, stronger, more energetic sperm with the best genetic material.
Remember that every minute of every day your sperm are growing, feeding from the nutrition of the food you eat and utilizing a steady flow of vital energy.
1. A Simple Targeted Herbal StartUp Program of the Right Herbal Supplements for You
2. Lifestyle Changes
3. Exercise
Just do some form of exercise regularly – but not über exercise.
4. Food Choices
Adjusting your diet for high energy foods and avoiding foods that slow you down.
5. To Test or Not to Test During the Program
This is personal choice although we do advocate it as a measure of your progress.
Now let's take a look at those 5 steps in more depth…
1. A Simple Targeted StartUp Herbal Program of the Right Herbal Supplements for You
The herbalist has designed this StartUp Program which will help your specific condition. Commit to taking those supplements daily!
There are some easy steps that you can take to give basic support to your sperm as they renew each day. You need to keep your genitals free from too much heat.
Avoid the following:
• Hot baths
• Using your laptop on your lap
• Tight clothes
• Tight underwear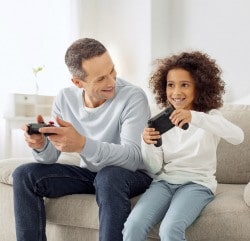 3. Exercise – Evaluate Your Exercise Routine
A regular exercise routine is good because it creates more energy.
3 Things You Need To Know About Exercising during the Program
1. If you are tired, do not exercise at night. It is ok to work out in the evening if it helps you to sleep well later. However, intense workouts at night are to be avoided as they exhaust your energy reserves.
2. The best time to exercise is in the morning. At that time, you can always push it a bit harder.
3. If you are a gym addict, a marathon runner, or you cycle for many miles and you have found your sperm's motility is low, there is a connection. You are depleting your energy reserves and that is affecting the motility of your sperm.
Even for women this can be a factor. We helped a couple called Maguay and Stephan. Maguay was a marathon runner. When we advised her to temporarily reduce the intense training, she became pregnant quite quickly.
Remember these are all temporary changes for how you use your body's energy. These temporary changes are all designed to give your ever-renewing sperm the best possible chance of growing strong and healthy.
4. Food choices – Clean up your Diet
You are on a quest to give your baby the best start possible so it's time to reboot your diet and clean out all the foods which have little or no nutritional value and which rob you of your energy.
A major part of Chinese Medicine is what is called Food Therapy.
Food Therapy is a much deeper study than just the nutritional value of the foods.
It is the matching of your energies to the right food energies.
We want to look after both you and your diet. We want you to know what foods are the best for your developing sperm.
Some Overall General Guidelines Which Apply For Most Men
Make sure you are getting enough hormone free protein.
• Eat high quality, hormone free, poultry and red meat.
• We suggest some kind of white or red meat every day.
• Beef or another red meat 4 – 5 times weekly.
Make sure you are getting lots of fresh, cooked vegetables.
• Take special care to eat green leafy vegetables every day.
• Vegetable juicing is a good choice. Don't juice fruit while you're on the program because it is too high in sugar.
Make sure you are getting lots of fresh fruit.
• Fruit should be seasonal. Aim to have 2-3 pieces a day.
• In the winter, have fruit in season such as pears or apples. In the winter, it is quite usual to naturally eat more vegetables.
• In the summer, enjoy everything but do try to eat organic. This is especially important for berries because they absorb so many pesticides.
Nuts, seeds, rice and beans should make up around 20 % of your daily diet.
Keep starches, like rice, sweet potatoes low – around 10% of your daily diet.
Remove or Reduce (remember this is temporary)
• Alcohol
• Caffeine
• Processed Foods
• Processed Foods
• Refined Foods
• Sugar
Remove or Reduce (If removing is hard, try cycling on and off. These foods are sticky and slow down body function).
• Bread
• Pasta
• Cheese – try grating it and not using much
This will be especially important for you if you if you tend to have any one of these symptoms:
• Sinus issues
• Gas and bloating
• Carry excess weight
• Feel lethargic
If it gets tough, remember:
All of these changes are temporary.
Three months to new more positive numbers.
You can change your numbers and the health of your sperm, dramatically.
5. To Test or Not to Test During the Program
If you are testing:
retest every 3 months or at least every 6 months. And aim high.
If you are doing everything you can with lifestyle, diet and herbal formulas and your numbers do not improve: you will need to go to your next Testing Level (see our charts further down).
If you choose not to test:
you will still get the same great results. We just encourage you to test because it gives you more control.
Live and Eat For the Health of the Sperm Within You
It is your body and your sperm health.
Your sperm are growing every minute of every day.
So are her eggs.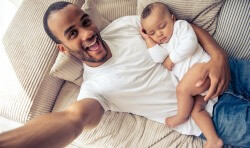 So it is almost as if you are both pregnant and knowing that how you live during this time will dramatically affect the health of your baby.
So don't eat and live for you right now, or even for each other.
Live and eat for the sperm and egg within you.
As you feel better your sperm and egg will have more vitality and be of the highest quality.
The doctor cannot improve the quality of your sperm or eggs.
Only you can do that.
And you're not alone. We are here to give you all the tools and knowledge you need to do the job.
What's Tested for and What the Numbers Mean
Here are some helpful charts for you.
NOTE: Often when a semen analysis is not normal your doctor may explain all of these levels of testing. It may seem as if you are headed into a very complicated situation.
However, Level Three is not usually needed and men rarely need levels 4 or 5.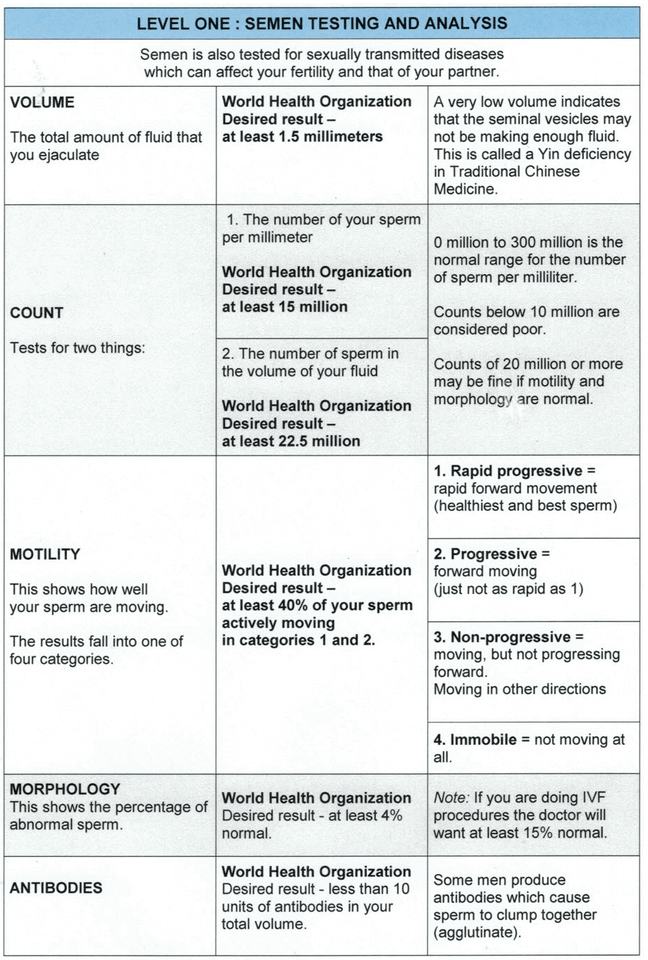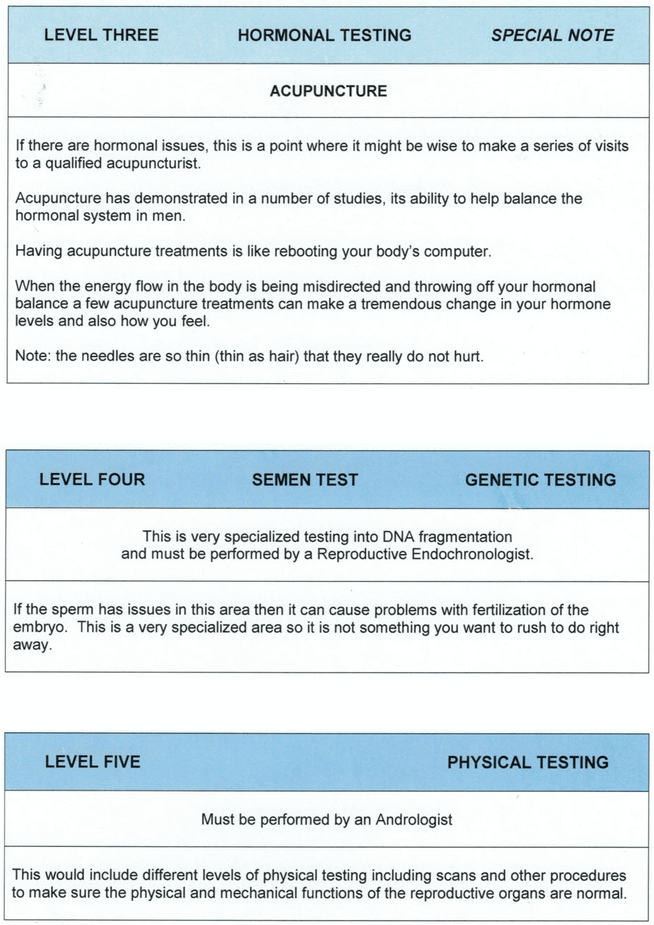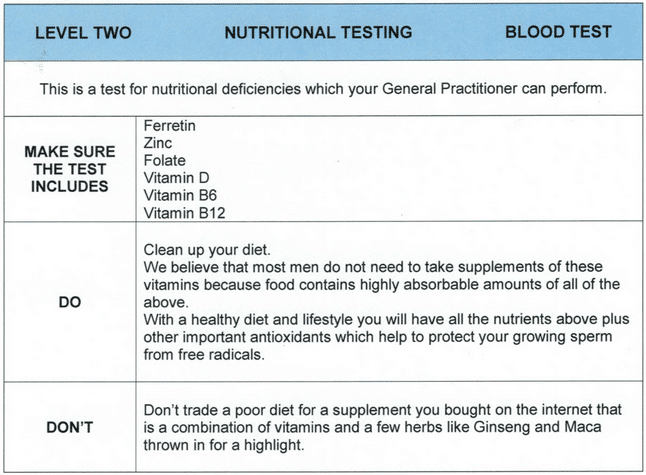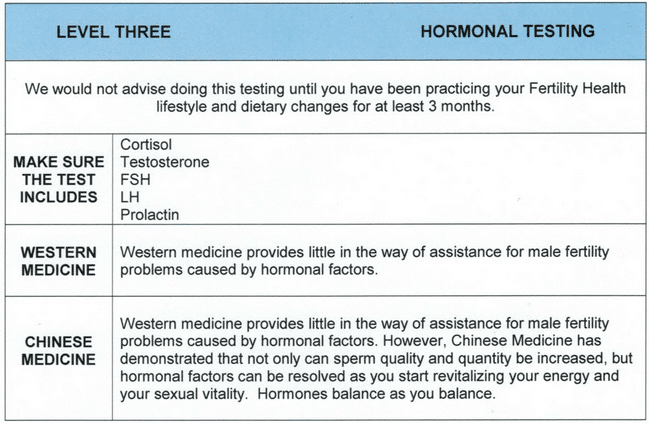 FAQs About the 12 Week Healthy Sperm Program
Here's a round-up of the most common questions that we are asked about the 12 Week Healthy Sperm Program.
When you buy The Male Fertility Herbal Program you will be invited to download your own copy of it for free.  However, here it is for you to review now.   The Male Fertility Herbal Program and the 12 Week Healthy Sperm Program work together for the most powerful results.
I am confused by the overwhelming lists I find online of vitamins and minerals I need to take. Can you help me?
If you want to gain clarity and direction about your Healthy Sperm Program taking a long list of vitamins is not going to give you a competitive edge. Your body makes most of the nutrients it needs. Reach out to us. There may be something your body does not produce that would be recommended.
What does a, b, c, d mean with my semen analysis under motility?
These are the 4 grades of motility: You want at least 32% motility and most of those in category A.
A – is the percentage of "Rapid Progressive" Sperm. These are the sperm that are the healthiest. They are moving rapidly forward. You want a minimum of 32% in this category.
B – Progressive. These are also better sperm. They are also moving forward toward the egg, just not as fast.
C- Non progressive. These are sperm moving, but not always moving forward.
D- Immobile. Sperm that is not moving at all.
What is low motility in Chinese Medicine?
Low motility is closely aligned with your own energy. If you are tired your sperm will also be tired, and not produce those ''rapid progressives" that you want to see. This can also affect the count because proper nourishment of sperm is not just nutrients it is also energy. When you increase your vitality, you increase not only your sexual vitality, but the vitality of your many millions of sperm. You are feeding an army with food and energy.
How can I possibly change my deformed sperm?
You are looking for 4% of your sperm to be healthy (not deformed). IVF procedures often want 15%, or they will wash the sperm and inject them.
It is also important to see this test in relation to your tests for count. If you have 4% healthy sperm and your count is 100 million, you still have 4 million healthy sperm.
The morphology, or shape of your sperm is important because there is a concern that the genetic material is not strong. Morphology usually looks at the head, the neck, and the tail. The head holds most of the genetic material. If you have a high morphology number your sperm will not be moving normally either. This is a reason why the sperm can start swimming in other directions (not headed toward the egg!).
Chinese Medicine sees deformity as a lack of nutrients. The sperm are not getting what they need. If your body is not being nourished properly your sperm will not get the important nutrition that they need to become strong, so many may die or become deformed. They also will not have the material to build the best genetic material.
You can change this scenario.
How long do I have to do your 3 month and test program for?
Until your numbers are high and positive.
If your initial test shows all high numbers, doing our program for 3 months would just be to learn the foods and techniques you can use to do even better. Maybe you just do it for a month. Or you skip it altogether.
For most men with compromised numbers it takes between 2-3 rounds to see the best results.
When do I start testing every 6 months?
When your numbers are good, we recommend doing just the basic tests every 6 months, both for you and for your wife. You are both working to be as healthy as possible to create the best quality egg and the best quality sperm for the healthiest happiest baby. Since you are not yet pregnant, it is good to test every 6 months.
Also evaluate how you are feeling. If you are feeling more energy and sense of wellbeing, so are you sperm.
How to Contact Us
Monday to Friday 8– 4 (Pacific Time)
email: [email protected]
chat: here on the site
by phone
TOLL FREE: 1-800-901-0656 (USA and Canada)
Or: 1-310-394-0012 (USA and International)