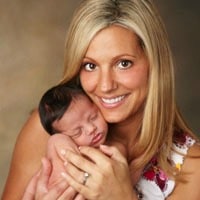 Amanda, Hope all is well. I wanted to let u know we had a baby girl on July 10, 2009!
Lila Kate weighed 7.9 and was 20.5 inches long. I'm in heaven:)
Take Care, Tina S., New Castle, DE
————————–
November 13, 2008: I just wanted to say Thank you for everything! and to let you know we are PREGNANT! hcg level was 1315!!
Thank you again, Tina
————————-
December 15, 2008 I wanted to let you know that my pregnancy is going well! We are now 9 weeks along and have had 3 great ultrasounds. My due date is July 18. God is so good! It's going to be the BEST Christmas! We're waiting until then to share our special news! Thanks for all your help and guidance along the way.
————————
Sometime later (not sure of the date): Here we are, so happy with our beautiful baby girl. And we thank you Radiant Wonder for being such a contributor to our success! And now we are ready to prepare for the next child. What a wonderful thought, when a few years ago even having one seemed a mountain that might never be climbed. So thank you for the program and the renewed understanding of what I can do to help myself. I appreciate the joy you take in helping others. It is contagious.
Tina S.
New Castle, DE