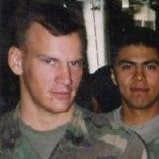 Carlo is an American hero. His Marine unit was the first one on the ground in Desert Shield, and one of the last Marines out with Desert Storm. He is now a professional cross country trucker with a great wife, Sonia and a little son, Carlo the 3rd. A little while ago he was diagnosed with high blood pressure, however he was not taking any medication, so Sonia called and asked if Radiant Wonder had any herbs to help support his heart.
He took a simple program of Pressure Ease and Stress Relief. He started the program in December of last year. Since starting the program he has been taking his pressure every morning, and his wife has been keeping the records.
December 19th of last year his pressure was 175/121. In April it was down to 148/89. By the end of April he was feeling so much better. There was no shortness of breath and he felt great. He stopped for three months because of life's complications. It is now August. The pressure has been creeping back up a little bit, he is starting to feel out of breath again. He has just restarted the program and this time he is going to continue.
Carlo also knows that he needs to get out there and exercise again, but where he lives in Arizona there are not a lot of sidewalks, and mountain biking is hard to do (you can be run off the road). He is really looking forward to next month when they move to California, and he can get into a regular exercise routine. He is planning to get back on the herbs and then add in the exercise and see what happens. He will probably add Energy Boost to his program.
Some interesting things about high blood pressure. First of all it is very important to work with your doctor. You can take herbs, exercise and do everything you can to help yourself, but working with your doctor is really important. He can monitor more than just your blood pressure. And he can work with you to help you reduce your medication. You have to do the work, but he can monitor your progress. Also, in case you are taking your blood pressure and aren't sure how to translate the numbers — here are some interesting facts.
There are 4 stages: Normal – High Blood Pressure – Borderline Hypertension – Hypertension.
Optimal blood pressure was considered 120/80 up to 130/85. High blood pressure is considered 140/90 or more Levels above that were called borderline until patients reached the hypertension range. New guidelines classify normal blood pressure as below 120/80, then up to 140/90 hypertensive.
Also, it is important to take your blood pressure regularly and at the same time of the day. Morning is also the time when the blood pressure is usually highest, so just know that to be true. The more facts you understand the better off you are.
Carlo L.
San Antonio, TX