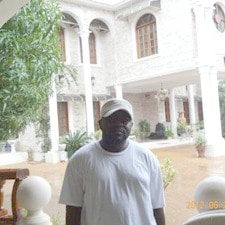 Then: No energy, carrying an inhaler, in and out of the hospital with asthma attacks
Now: Over three years without any asthma attacks at all.
I am 37 years on a student Visa from Liberia. I just received my Bachelors in Business management here in Philadelphia and am starting a Masters Degree. When I finish I will be headed home to my beautiful home country.
I was 32 five years ago when I first arrived from Liberia.
During the first winter I ended up very sick and in the hospital with what was diagnosed as asthma. I carried an inhaler with me. I had no energy. Everything was slowing down. I would awaken some mornings and just did not want to move, just to lie there and relax. I forced myself to keep going to my job at the Philadelphia Airport and to my classes and studying. It was very hard. A friend of mine, Fanta, told me about Radiant Wonder.
The formula was The Great Protector, I started feeling more energy within a week. Four bottles later (about two and a half months) my asthma had lessened to almost no attacks. My original dose was 2 twice a day. I stopped the formula, but I remembered that it was important to strengthen the lungs against asthma in the late summer and fall.
So for the next 2 years I ordered 2 bottles in July or August and took the herbs 2 once a day until the bottles were gone. After those 2 years I stopped the formula completely, but I know other things I learned helped to keep the asthma away. The most important was not drinking lots of cold drinks, and always starting the day with something hot to drink and a good breakfast. That has become a habit.
Now 5 years later I am calling Radiant Wonder again. I was shocked, Amanda remembered me right away. Anyway, I am having trouble waking up clear headed in the morning and I needed something to help charge me up in the morning. With the schedule I keep I need a clear head. So I am going to try Adaptogenic Energizer 2 in the morning, and then if I have late night classes 2 capsules between 1-3pm.
(notes)
Radiant Wonder herbs are not curing the asthma. Asthma comes and goes. It is either active or it is in remission.
When asthma is active you should do nothing else but to work directly with your doctor because asthma can be a life threatening event.
When the asthma is in remission however is the time for you to be proactive building your immune system and strengthening your lungs and overall energy.
The goal is to have less attacks, milder attacks, less frequent.
Abu Jalluh