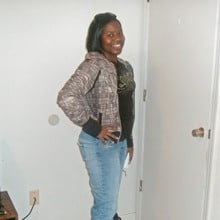 Amanda, I first must say that I am a big fan of your products.
So far I have used Thermo-Max #1, Free Flow and Cinnamon & Poria. Everything has WORKED!!!!
I was 180 pounds and now I am down to 160 pounds. It was so easy. Just take your herbs and do the super easy Radiant Eight Energy Exercises for 20 minutes a day. I also had one blocked fallopian tube, the Free Flow and Cinnamon & Poria have really helped with that. The doctors did not want to perform surgery on me because my right tube was still clear and 'there was still a chance,' but once I started using your products I could instantly feel a difference in my body. I had an HSG done. My left fallopian tube is open, without surgery!!!!
Once again, Radiant Wonder has lived up its name! You can use my story and picture. I hope it inspires someone else to use your products.
Dina C.
CA, USA