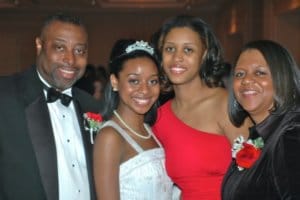 I cannot tell you how much our family depends on Stop It Cold! Forget remedies like Airbourne, EmergenC, and all the rest. I've tried them all. Nothing matches this magic formula.
We went from being a family that got sick every winter to being strong and healthy all year round. There is nothing like living through the cold months and not getting sick! Everyone in our family feels the same way.
Here is my family (left to right) me (Rita), Alana (17), Ariele (20), and my husband (Bernie) Bowers. I am a school teacher at Catonsville Middle School. Alana is a Dance & Theatre Major on her way to NYU. Ariele is an Astrophysics major at Johns Hopkins University. And Bernie is both the Diversity Director and the football coach at the private school Loyola Blakefield, where he was once a football star.
With all this going on, can you imagine how many germs we're bringing into the house and sharing with one another!? And guess what. We don't get sick!
And listen to this… (I loved when this happened.) I took one of our girls to see our pediatrician two years after starting to use this product. He wanted to know where we had been the last two winters. He actually thought we had switched to a new doctor! (We used to be in to see him every winter with cold after cold after cold!)
Ariele, age 20, the Astro Physics major at Johns Hopkins says: Last year the number of students sick at Johns Hopkins all year was unbelievable. Everyone was sick all the time. All of my classmates, all of my friends got sick, sometimes multiple times. I never got sick. Not once.
Alana, age 17, the award winning dancer and theater high school senior: When I went to a summer dance program in New York last summer I insisted my mom express order some Stop It Cold! I wanted to be sure I could dance every day. And I did! Dancers often get sick.
Years ago, when the girls were young, I called Amanda and begged her to help me. At first I was actually most concerned for myself and my husband. We were so exhausted I wondered how in the world we were going to be able to do everything we wanted for these beautiful girls when we ourselves were always sick or struggling to get well. We had no energy at all.
When we started taking Stop It Cold we were absolutely amazed. Radiant Wonder encouraged me to call whenever someone was starting to get sick. They were so personable and helpful. Colds might try to get us, but now they can't get us down.
We also love some of their other immunity products, such as Immune System Formula and Herbal Antibiotic. I cannot tell you enough how much we depend on these products!
Rita B.
Pikesville, MD