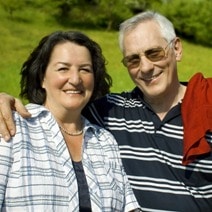 Hello, I have never written a letter of recommendation for any company, but I am excited. Ever since I was a child I have experienced gas and bloating.
Then I actually started a strange habit. I would belch. Now I expected to have a belch after a meal, but I would belch when I was working out. As soon as I got on the treadmill it would start. At Gold's gym that was no problem when I was working out with the other weight lifters, but it was a real embarrassment when I would go to the regular gym, or on a jog.
My wife had had excellent results bringing down her high cholesterol with your Cholest-X. She encouraged me to call you. Boy am I glad I did. One of your herbalists talked with me for about 15-20 minutes. In that time she gave me some very simple dietary/lifestyle changes and recommended a 20 minute exercise routine to do daily. I started taking 3 things: Stress Relief, Calm Digestion, and Digest Ease #1. I saw a difference the first week. Within 2 weeks the belching was completely gone. I also saw a noticeable difference in the gas and bloating, so I chose to continue. Over time we have cut back on the formulas as my body got stronger and more able to handle things on its own.
At this point, 3 months later none of the chronic complaints I have had most of my life were present. Life is so much more enjoyable. Also my energy has definitely improved. I feel so good. At 53 it is pretty neat to see life getting significantly better.
You have my sincere thanks. Customer service at your company goes beyond the normal meaning of that phrase. There is a sincere effort to give you help that is real, results you can see. There is no sense of your herbalists just trying to keep me buying things. My program has gotten smaller with time, not larger. And just think about it: I am totally ready for the holiday meals with all the family around!
Hope to speak to soon.
Thank you and God bless
Pat